Here are two seven inches by Ex-Ignota. They were from the greater Santa Barbara area, and back when I was a high school student in Santa Barbara during the mid-90s, I caught a bunch of their shows. I honestly don't remember much from the shows, except that I enjoyed them very much, and often left them looking forward to the next time I would see the band play.
On their website, they note:
The group quickly became recognized for strange and extreme live performances consisting of the members dancing and crashing into one another amidst sounds ranging from pounding chords, to gentle guitars, to Italian zombie movie soundtracks. The band seemed to like nothing better than to challenge each institution they encountered, and audiences were turned on.
When they first got started, they were called IG-88. You may have heard the IG-88 song on the Heartattack #10 compilation. That's Ex-Ignota!
One seven inch on this post is the Lazarus is Back… record put out by Ebullition in 1995. Ebullition:
The band consisted of kids that were going to the local university; many of whom were art students. Ex-ignota played hardcore that was definitely influenced by a lot of arty musical concepts; abrasive and melodic, with singing and yelling, and lots of variety. They strove to do things just a bit differently.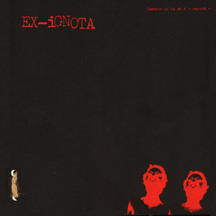 My record was the version with the oversized cover. And over the years it got tore up. So I had to get rid of the cover. But here is what it once looked like. After the break-up of the cover, my vinyl did NOT stay in top condition. So the two tracks from this contain snaps and pops. But I believe the record is not out of print, so buy it yourself if you want a fresh version.
Musically, these guys remind me a bit of St. James Infirmary mixt with Incurable Complaint and then mixt with whatever else. But that's just me, and it doesn't mean anything anyway. So here's a preview track to help you decide for yourself.
https://blueskiesabove.us/noise/Amy's%20Day.mp3</audio>
(that's an entire side of a record.)
Laid-back singer/songerwriter Jack Johnson, when he was at UCSB, made a short documentary about Ex-Ignota. Here it is:
The other record on this post is the 7″ put out on Redwood, also from 1995. That's what the above song is from. The two songs on this record were also on the split CD with Uranium 9-Volt.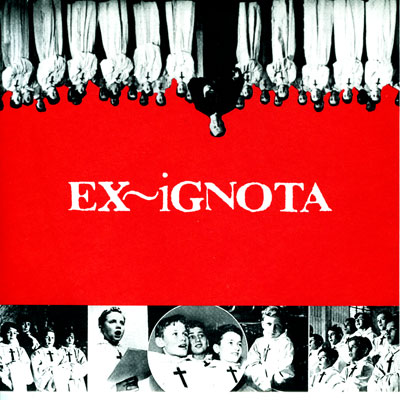 In addition to these records, they also put out a demo (under the name IG-88, and if anyone has this, please send it to me!!), as well as a full length CD. I haven't heard the CD, but I am very eager to do so. Until then I consider myself a failed fan. I should just order it from somewhere! (but if you have it to share, please do so.) And they put out a split with Barcode. That split was posted on one of the music blogs on my music blogroll… I don't remember which one! It's been months.
Other notes: in one of the photos posted on their last.fm page, you can see Dylan from Stratego in the crowd. The band members set up lots of shows in Isla Vista. I really like the sweet melodic guitar on "Truce." If I could play guitar, I'd probably just play stuff like that all day.
Great band! I hope you enjoy it.
---
also! If I can make some requests – can anyone hook me up with these:
— bob tilton – crescent (my cd is all scratched, and I like this album) Thanks Geno!;
— (as mentioned above) the ex-ignota cd;
— the Sunshine compilation. I have this, but I lent it to a friend enemy and never got it back. I still have the booklet, now I just need the music again.
–False Object Sensor compilation. I have this on vinyl, and it rules. x-mist put out the vinyl and vermiform put out the CD. So if someone has the cd version, I'd like to have the files. If not, I will just transfer it my damn self. Thanks Ricardo!

— lastly, an unknown band that I'm searching for (lost the mix tape). I know they made at least three songs, and the lyrics of one were, "Now that it's gone, I can't get it back. Now that it's gone, I need it back." they sung/screamed, and sounded like plunger, nuzzle, benchmark, indian summer, etc. and they had to have been from before 1997. I can't believe it's taking me so long to figure this out. help please… It was Pawn. Thanks Geno!