This was requested. It's been posted elsewhere in the past. But here it is here. But wait! Probably don't download it yet, because I don't have the track names. I swear that I remember this coming with an insert containing the track names and the lyrics. And I'm pretty bummed out that it's not contained in my cover anymore. I don't know what to do, except hope that someone leaves a comment with the track names! Then I'll update the zip. Everything's fine. Thanks.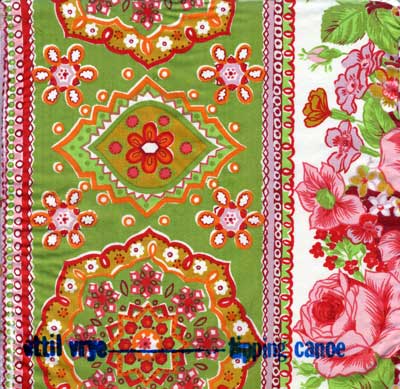 This split came out on Moganono Records in 1999 (possibly 2000). In a previous post, where I said something about Peter from Ettil Vrye being in Sinaloa, what I should have said was Peter from Moganono being in Sinaloa, along with two of the guys from Ettil Vrye. Please accept my correction.
This record was limited to 300. The cover is handwoven (mine, said Peter, with "extra love" – there are some heart-shaped stitches).
Today marks the first day I've listened to the Tipping Canoe side of the split. It's good! Kind of reminds me of Merel. Ettil Vrye is good, as well. Here is a review of the split. It is an excellent split, and well worth your ears and hearts.