Thanks for the feedback, homies. And so here are three seven inches by Manumission.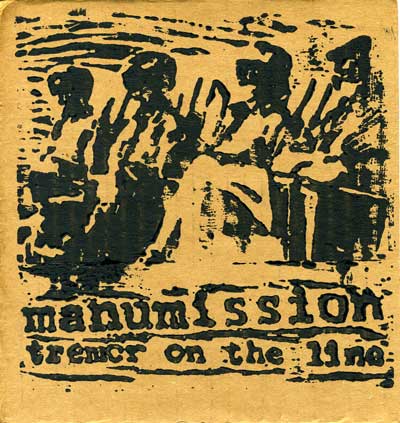 All of these came out in 1993 and 1994, I believe. Binary Lung was put out by Ebullition, Tremor on the Line by Repercussion, and Diego Rivera was a split release by Sovereignty and Ebullition. Manumission was from Goleta, California. Some of the members were attending UC Santa Barbara at the time. Jose (from Struggle, etc.) drummed for some of the songs, and I believe he lived in San Diego still.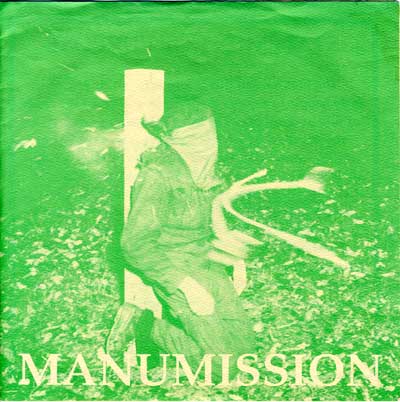 They are one of my all time favorite bands. I was too young to ever see them live. The Binary Lung seven inch was the first Ebullition record I ever bought, and it basically turned me on to the rest of the catalog. They profoundly changed my perception of hardcore. I poured over the insert of this record and discovered sincerity, politics, and emotion. Hardcore wasn't just brutally fast music with a bunch of screaming. The last on this record, "Humanity," ends with Ani speaking the lines he had been screaming in the last verse. At first, through my lense of irony, I thought it was sort of goofy. But then a friend stood up for it and declared it to be the best part of the record. I then reevaluated my perceptions of the music, and I took a real look at the words and the ways in which it is all presented, and I recognized that it was sincere and substantial and should be taken seriously.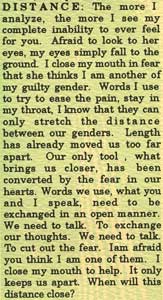 Manumission is a political band in many ways, but at the same time they are intensily personal. In high school I photocopied the lyrics of "Distance," and had it tacked up on my wall. It seemed to perfectly capture my thoughts on relationships and gender.
Distance:
https://blueskiesabove.us/noise/02%20Distance.mp3</audio>
There are somewhat disparate styles at play in their music. The drums are extremely fast, snappy, and tight; the guitar and bass are at times catchy and melodic, and during fast parts often played slower than the drums (or at least it sounds that way), but at the same time there can be some seriously crunch; the vocals are absolutely ravaged and brutal. All of it comes together for what I think is a unique interplay. They are tight, controlled, but also cathartic and blistering.
Check this song, "Guillotine," off the Diego Rivera seven inch:
https://blueskiesabove.us/noise/01%20Guillotine.mp3</audio>
So, download it all, and enjoy! Geno from the comments recently posted the Manumission side of their split with Los Crudos, so I included that in the zip, too. All inserts are included, as well. The second side of Diego Rivera is live from a radio show. "Hawthorne Effect" is originally on the 3/12/93 compilation (which I have, but it seems to have a small scratch).