Finally! I found the Summertime compilation online. The Snack Attack blog posted it. Thanks! That took way too many years, internet.
I owned this comp, but (as my comment on the blog I linked to says) I lent it to a friend's bf, and he never gave it back. He also snagged my Ruhaeda CD and Party of Helicopters CD. Luckily I still had the vinyl for those two! But the Summertime comp was only released on CD. I still have the booklet.
This came out in 2000. If you're looking for late '90s / early '00s screamy hardcore, this is a good comp for it. Personally, I think of it as the successor to the Israfel comp. Some notes: The Numbers Are Neutral and Off Minor songs are off their demos, and are great. (I'm not spotting much Numbers Are Neutral songs on the internet right now, and I have this demo, so I may try to transfer it at some point.) The Assistant's song is probably my favorite one off of their CD – the drumming is just freaking insane all the way through. Doesn't Pg. 99's singer always sound like he's underwater? He does to me. Usurp Synapse blows minds, like usual. I like The Cable Car Theory's track. I like those less-screamy vocals mixed with fast, shredding drums. I'll try to check out more of their stuff. Did their members come from other bands I should know?
I downloaded (148mb) it from Snack Attack, and saw that it doesn't have the scan of the booklet. So, I scanned it! And this is basically why I'm making this post – though I do think more people should check out this comp, as it may have slipped by you. Download the insert here (4.5mb PDF). Many of the bands have lyrics/info pages. And there's some writing from the guy who put it out.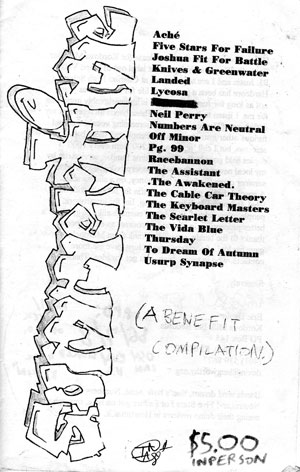 SEO yall:
Ache Five Stars For Failure Joshua Fit For Battle Knives & Greenwater Landed Lycosa Neil Perry Numbers Are Neutral Off Minor Pg. 99 Racebannon The Assistant The Awakened The Cable Car Theory The Keyboard Masters The Scarlet Letter The Vida Blue Thursday To Dream Of Autumn Usurp Synapse