Here is the An American Tragedy compilation 7″.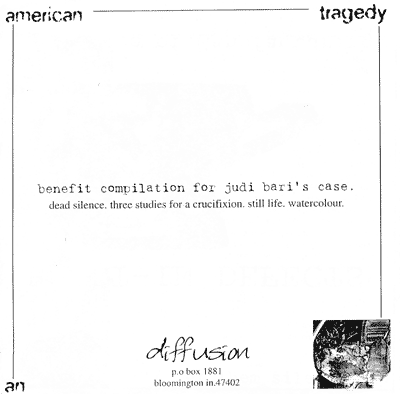 It features:
Dead Silence Three Studies for a Crucifixion Still Life Watercolour
It was put out by Diffusion Records (Bloomington, Indiana) in 1996.
Dead Silence covers a song by a band called Dissent. I'm guessing it's originally from the '80s. It starts with, "Sometimes I get angry, but not in a selfish way." And sometimes you play pretty catchy '80s punk rock (which is also not a selfish thing)!
Then Three Studies for a Crucifixion arrives from planet Jupiter, but explodes mid-entry, and this is what we're left with. And it rules. This song is also on the split 7″ with Harriet the Spy. Except this is a different recording of it. A better one! I recently posted this song on my tumblr. I love it! So then I figured I should post the rest of the record. Which is what I'm doing now. This comp had previously (about 3 years ago), been posted on another music blog. But they didn't have the balls to keep the links alive. Which maybe means that this record is already common on the hip young music-sharing message boards you blokes "surf." BUT! It wasn't included in a zip that supposedly contained their comp tracks.
On that (side) note: here's everything by Three Studies for a Crucifixion! It's only their songs (not the other sides of the splits), and includes their stuff from: the split with harriet the spy, split with coleman, split with melt banana, four songs from comps, demo, live set. (Look, I used mediafire… they keep links up for a long time, right?) Thanks to Leo for for helping find these! And I got the demo from Killing Technology.
Edit: this discog is three tracks short! It's missing three songs from the 49th Parallel compilation. My friend has that record, and I'll be borrowing it soon, to complete the discog!
If you want the other sides of those splits, here's: split with Coleman split with Harriet the Spy split with Melt Banana
Okay, back to this record. Side B has Still Life doing their best and slowest William Martyr 17 impression. har har, just kidding. But those bands do remind me of one another at times. Watercolour is good – melodic and decently-fast (similar to cap'n jazz or something).
This compilation is a benefit for the (now departed) political activist, Judi Bari. Her car was hit with a pipe bomb… and by whom? Insert included.
-download An American Tragedy–