People liked the other Tem Eyos Ki stuff I posted, and Ricardo requested this split, so here you go: the Tem Eyos Ki and Hundred Years War split seven inch.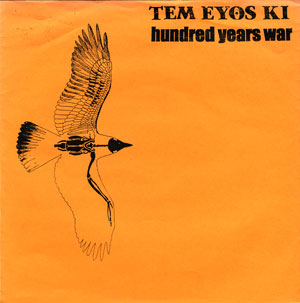 Harlan Records put this out, in 2000. Both bands feature members of all kinds of Little Rock bands. Hundred Years War is sort of ex-William Martyr 17. I'm not sure what else they put out, but it says they were together from 1996-1999, so I imagine this isn't their entire output. This song on here is heavy and brooding, with vocals similar to Incurable Complaint.
Tem Eyos Ki is, as usual, fast and thrashy and metallic and epic. It looks like these songs were recorded around the same time as the tour CD I previously posted. There isn't a gap between the two songs, so I kept them as one file.
Both bands cover the topics of identity and eating disorders. Lyrics and explanations are included in the insert (which is in the zip).
Tem Eyos Ki / Hundred Years War – split ep
(p.s. I just moved, and my records were boxed, and so posting was slowed down for a bit. But now I hope to get a few things up per week.)