I'm a big giant Unwound fan, and I own nothing of theirs on vinyl. So when I recently found this Young Ginns seven inch at a local record store, it felt to me like step one in the correct direction. It's also, of course, way great to find early Gravity records for down cheap.
Young Ginns were from Olympia, WA. They feature Justin and Brandt from Unwound (Brandt quit Unwound about six months before this record was recorded – he was replaced by Sara Lund, who no longer works at the music store down the street from me, and is now, apparently, in library school. Sara, if you are still in Portland, you should come to the library-people meet-up that is organized by my friend and that is quite popular: Interlibrary Lush). And this seven inch was recorded about a month (Dec. '93) before the recording of Unwound's second full length, Fake Train.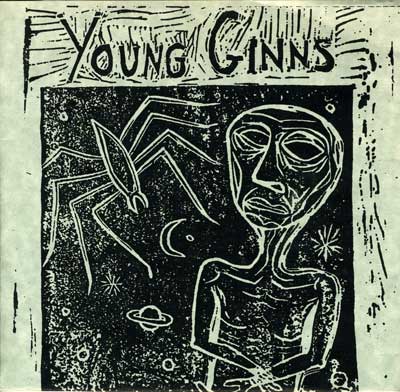 Anyway, I really like this seven inch. I've been listening to it a lot lately. But now I want to be able to listen to it on the bus, so I digitized it. It definitely holds with the low-ish fi recordings of other early Gravity records, like the first Heroin seven inch, and the Lava seven inch. The songs are gritty and pretty short, with a certain Bl'ast-ish drive and mania. I especially love the guitar on the last song – reminds me a bit of Heroin's occasional meanderings.
And to continue mentioning bands that aren't Young Ginns, on the song below you can even see where Crimson Curse may have found some influence.
https://blueskiesabove.us/noise/02 Cemetary.mp3