Sake, with an accent on the e. They once hailed, as we have all once hailed in our own personal ways, from Eureka, CA – a northern California coastal town. Lotta fir trees of some sort near the beaches. I rode my motorcycle through it a little over a year ago, and stayed there for the night. Found some cheap and good Chinese food, and drank wine in a motel room.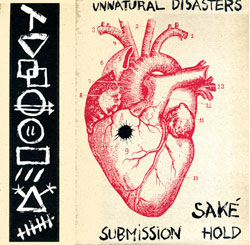 I first heard Sake from the split lp with Submission Hold. The split is awesome. I'd seen Submission Hold a bunch of times, and they were always great shows. I wanted to bring my dad to them, because I knew he'd appreciate the drummer. But I didn't. I've included their side of the split in this post. They have songs about repetitive stress disorder, implicit and explicit forms of chauvinism, and shopping. Mostly female vocals, but also male. Supplemental flute, and some violin. Fairly clean guitars, wicked jazzy drumming, and powerful vocals. The lyrics are super, and they are also printed in Spanish and French. Submission Hold is from Canada. I was always happy to see them when they came down to Santa Barbara. They were all really nice folks.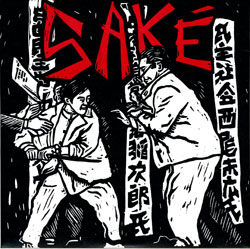 The Sake side of this split was a sleeper hit. They are also female-fronted with male on the side. The singer plays violin, so when she's playing, he's singing. I think he is her brother. The violin adds a real brooding overflow to the already heavy, striding songs, especially on the last two songs (the last one is an instrumental). Songs about sexism, religion, etc. She occasionally sings with a little vibratto when more spoken, but it's a harsh, hoarse scream when less spoken.
The insert to this record has great designs (Sake design reminiscent of Zero Hour design), and nice explanations to the songs. The pdf of the insert that I made is humongous. Bother me not with it, you, but just deal with the few more seconds of downloading and the assurance that it is not my ideal. Also, since 12 inches are larger than my scanner, I have to scan the covers in multiple parts, and then "virtually glue" them together to make a whole. They look wonky. But remember, I only did it like that because I love you.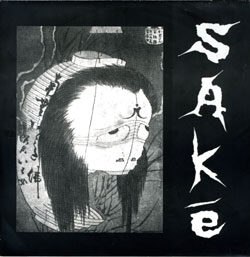 Okay, so also included in this post is the Sake 7 inch and the Sake 10 inch. All three of these records were put out by Hopscotch Records, in the years 1996 and 1997. They also put out Murder City Devils and !!! and Apeface and Blood Brothers and stuff. I hope all of this information makes you happy.
The seven inch has two songs, and sounds like it was recorded around the same time as the split. Yellow marble vinyl, duh. The ten inch, while a later Hopscotch release, is earlier material. It's good, but I don't like it as much as the later stuff. Later is when they fell into their sound (and she discovered more variety to her singing style).
https://blueskiesabove.us/noise/01%20The%20Desert.mp3</audio>