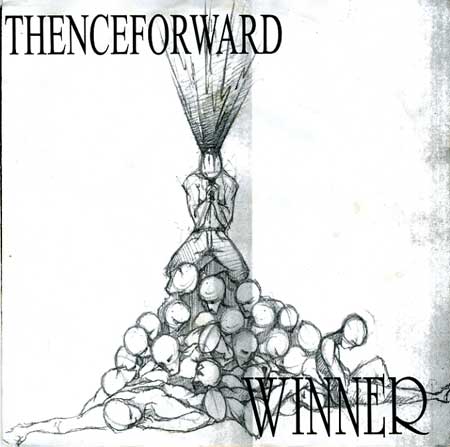 Hello visitors and acquaintances, this post contains the recordings of two seven inches by Atlanta's Thenceforward. Both of these came out 'bout 1995/6, via Phyte Records. I think this is everything they put out. But I could be wrong. One song from Winner was featured on a comp.
Of the two records, Winner is, in my opinion, the winner (pun definitely intended!… or wait, maybe that wasn't a pun). In fact, I've hardly listened to the other one, From Within (which was recorded about half a year earlier). They cite a lot metal bands as influences, although I don't consider them super-metally. And their band photo is actually a photo of the Bones Brigade, although I don't consider them to be professional skaters. But they certainly are fast and good at heel-flipping down staircases. They remind me somewhat of Iconoclast, what with the great drumming and (roughly) verse/chorus format. The vocals are at times, well, I don't want to say "rappy," because that sounds awful, so I'll just say they are sometimes something…
The first song on Winner, "Burn," which is about burning the fucking flag, is my favorite of them all. I hope you enjoy.