Here's the Thumbnail 7″ – The Sound of Thumbnail. File Thirteen Records, 1994.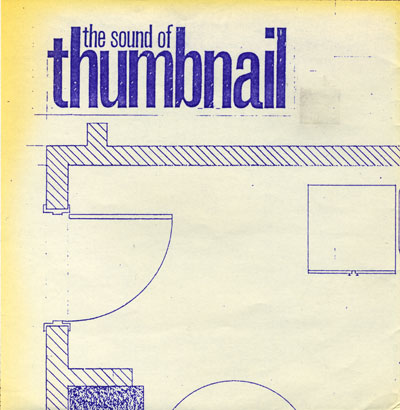 I like Thumbnail a lot. I see them as like a mix between Car Vs Driver and (early) Unwound and Iconoclast and…Shotmaker. Is that crazy? I dunno. They're steady, linear, not too fast, guided by bass and drums. I like their drummer – pretty snare-driven style, which is fun to drum along to.
All I've found online is their s/t album (which is great… and I just uploaded it! click here to d/l. 50mb), and a couple other miscellaneous songs. So I thought I'd share this one. 4 songs. I had this on tape for years, recorded from a friend's record. But then I found my own copy of the record a couple days ago! Nice find – only took me 15 years…
I also added an extra song to this zip – their track, Sore Throat, from the We've Lost Beauty compilation. It's a good song, so why not?
Here's a track from this seven inch, to get you started.