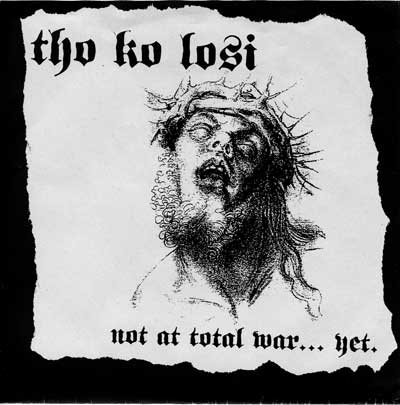 I saw these fellows play a show back in 1995 at Goleta Fest. They stood out from the rest of the bands (Julia, Constatine Sankathi, OEGP, Endeavor, etc.) because of their grindcore sensibilities, and I remember some of the poserly emo folks frowning and shaking their heads at them (rather than frowning and nodding their heads). On stage were two hulking men hunched over their microphones, spewing wrath toward god, religion, satan, and all the followers. One vocalist (who later went on to sing for Suicide Nation) has a growly voice, and the other is straight death. The music is akin to Conniption – a bit grindcore, a bit punk. That's, like, a terribly written description…
This is a seven inch, containing five songs. Sample one below!
WHOAGH! Crap! I just realized that I forgot to post the actual download in the previous Young Ginns post. Why didn't anyone tell me?! Maybe I should start paying attention to my mad d/l statz.