In our quest to compile everything by Three Studies for a Crucifixion, it came to our attention that they have three songs on the 49th Parallel compilation (as listed on discogs.com). But we only had that first song in the unofficial discography zip (includes the demo, and a live set). And the rip of that comp that's cruising around only has 13 tracks…
Where were those other two songs? On the record, perhaps! So I borrowed the record from a friend. And lo, it turns out that the listing on discogs.com is wrong (it's also wrong about the Inept track list). The other two Three Studies songs are just bolded text in the lyric sheet. They aren't actually different songs. So the discog is complete.
And here's the 49th Parallel compilation!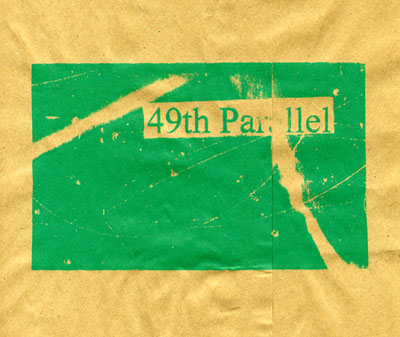 This is an lp, put out on Old Glory Records in 1997. It was also put out on CD by Disillusion records. 21 tracks. Here are the bands:
Swallowing Shit Still Life Karenza Tho Ko Losi Acrid MK-Ultra The Eliot Rosewater Three Studies for a Crucifixion Submission Hold Inept Gates of Dawn Resin
Many of these bands are from Ohio or Canada. This is a rad compilation. Many play pretty brutal and fast powerviolency stuff. Still Life has three tracks on side a (10 minutes of it, or so). It's a departure from their usual sound. Here, they channel Kilowatthours (Travels in Constants, vol. 17) and Bugskull, producing three lo-fi, droney tracks. Tho Ko Losi sound like Monster X on their first song.
More songs by Inept can be found here on the Fugitive Equilibrium blog.
–download the 49th Parallel– like 70mb, insert included. It's a pretty long comp (about 24 minutes each side)
Please tell me if I made any mistakes on this rip. I was sort of tired when cutting it into tracks.