I recently picked up In/Humanity's Gets Killed by Robots 7″. Previously, I'd only heard a couple songs of theirs from comps (Amnesia, and I Can't Live Without It), and while I liked those songs, I failed to seek out more. But this 7″ is rad. So here it is!
Also, you can snag their entire discog from Illogical Contraption. Apparently it was mixed differently than the original material – so that's, in part, why you may want to d/l this 7″ in addition to getting the discography.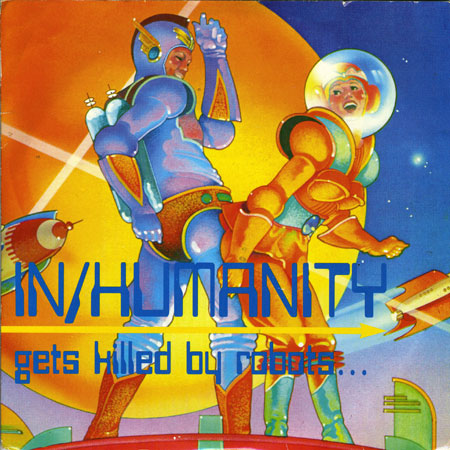 In an interview, the singer, Chris Bickel, says that this 7″ marks the point where In/Humanity first started getting good. It's sort of wild, and artsy/unusual, loud/soft (emo violence! – Bickel's terms). Reminds me a bit of Assfactor 4 crossed with Hose.Got.Cable. This came out in 1994.
Excuse the crackles. And I scanned the insert. It has some cool stuff.
–download–