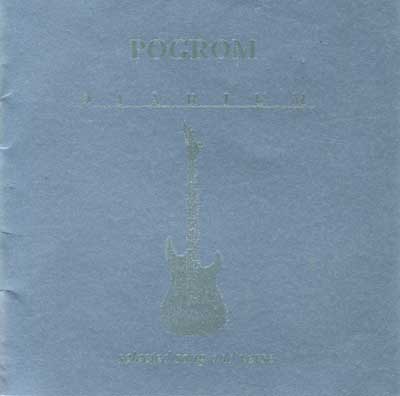 Like most of you, I'm sure, I only knew Pogrom from their one song on the XXX comp – the repetitive, trudging, double-bass robo-drummed, slow-motion vocaled song about "laughing at the world." I was both intrigued and entranced by the song – and by the concept: a one-person straight edge metal band – and I wanted to hear more. So, back in 1997, when I saw an ad in Heartattack for a Pogrom album called "Diarium," I carefully concealed my money and sent it off to him asap. Would "Diarium" feature more slooooow vocals, more languid, plodding riffage?
No! It's a total metal attack: super-technical programmed drumming, major riffs and licks and shredding solos, and operatic, carrying vocals. Lyric-wise, this can only be labeled as personal metal. Songs cover such topics as shitty housemates, being a scientist, grandparents growing old, and really loving metal. The songs have explanations, and he's also included some journal entries in the booklet.
As a solo metal project, it took him years to put this all together. I can only imagine how much work went into the drum patterns alone. So, the vocal styles vary a little from song to song (and, though it's pretty consistent, you can tell this didn't emerge out of one recording session). To get a clearer idea of the contents and ideas behind it, here's the prologue in the author, Jason Green's, own words:
Pogrom has always been about one thing: making and recording metal. Everything on this CD was recorded in apartments, houses, garages, schools rehearsal rooms – anywhere I could find to get the songs onto tape. For the past five years, since 1992, I've been saving drums patterns and writing lyrics, putting out little demos here and there. At this time, there have been twenty-one songs completed, most of them done on 4-track decks. A handful have been upgraded with better equipment and compiled to form this representative collection.This won't sound like a real CD to me, it will sound fake. It shouldn't rest on the same shelf as the incredible 80's metal bands. But I don't want these songs to fade away, because if they do, then so will I, for this is my everything. I love heavy metal, and I love making it. I just hope there are people out there that still like to hear it.

I figure that many people that listen to this will say that it sounds like some idiot trying to do something he wasn't cut out to do. All I can provide for these people is honesty. These songs might as well be my skin, my hair – they are me, ugly and embarrassing. I will always wonder if I did the right thing by making this available to so many people, most of them strangers.

This booklet is essentially a diary. Most of the lyrics came from a hand-written journal. Other writings have been included here as well, some that relate to the songs, and others that are meant to stand on their own.

For a brief stint, I called this project Cephalon, but it didn't seem right after the fact. There's no political statement in calling this Pogrom. I chose the name because it sounded metallic. And it quickly grew catchy, to the point where *Pogrom* became synonmous with myself.

It's good to be back.
I've been big into this CD from the day I got it. It's different. It's pretty epic. If you truly like metal, then you'll probably appreciate it. Research has uncovered pretty much zero 'net presence (I found some false information on one site, and that's it). So I'm guessing not a lot of people have heard this. That's a shame, but, well, here you go. I wonder what Jason Green's been up to since this?
(My superdrive on my macbook pro sucks, so I have to thank world cup soccer pinball grand champ SSW, author of the Degrassi Digest, for ripping this for me. Thanks.)