Ricardo requested the insert/cover for this split (sorry for the delay!). But I couldn't just post the insert and not the music! So here's the total package.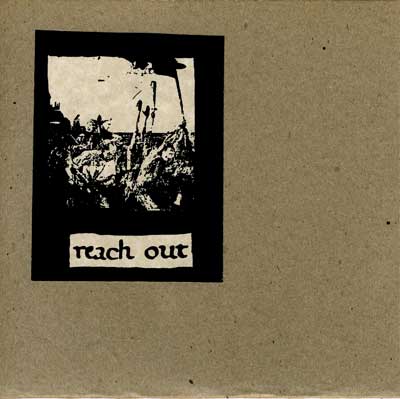 Two songs by both bands. Easily one of my all-time favorite records. Reach Out continues right where their 7″ left off. Two vocalists, one shriller than the other, both punctuating a shared story. The guitars practically sing with them. The songs are progressively structured, not stuck in verse/chorus repetition. Both songs blend together (with lovely feedback), but I split them up. I thought about keeping them together, since they are practically one song.
Honeywell completely blew my mind on this split. I bought this for the Reach Out, but I stayed for the Honeywell. Just kidding – but you know what I mean. If… brings to mind a beast, breathing inside a cave, fumes and steam broiling out with each breath. And then it emerges and the whole world erupts. I obviously can't write anything that will do this justice… so I'll just say that the things I like about these songs are: super fast blasted drumming, with a steady bassdrum beat that's half the time of the snare, absolutely devastating vocals that seem on the brink of falling into smoldering ruin, guitars that feedback, crunch, and speak sorrow all at the same time. If… is about uncertainty, complacency, etc. Five Minutes Only is about our cheap religions. Heaven is only an infinite treadmill away!
This came in 1993. I think it was on Anomaly Records. right?
Download the Reach Out / Honeywell – split 7″
Here's my post with the Reach Out 7". Here's my post with the In Memory of Jason compilation, which features both bands. Here's Hardcore for Nerds' post with the Honeywell discography.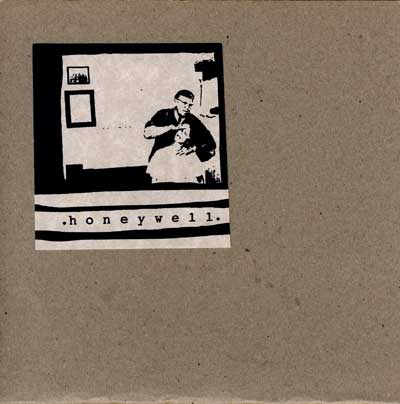 edit: In case you aren't reading the comments –
here is Pukeko's post with the (mostly) live on the radio Honeywell cassette!
Ricardo shared the Honeywell demo
and a live set by Reach Out from the Gilman
skywardeyes shared two early cassette tape recordings from Reach Out
The above Reach Out links, since the mediafire links are dead
https://blueskiesabove.us/noise/Reach-Out-Live-at-Gilman.zip
https://blueskiesabove.us/noise/Reach-Out-Practice-Recording-1992.zip
https://blueskiesabove.us/noise/Reach-Out-Practice-Recording.zip
And I added an early live recording from Honeywell, from a cassette –  (this isn't the 1993 KSPC set Pukeko linked to; this one has a handful of songs that I haven't found elsewhere. It's from 1992, and they definitely emo out on us more than usual here… )