Here's the first Boys Life 7″. This was put out on Synergy Records, in 1993. It's the first thing Synergy put out. I found this at a local record shop a couple weeks ago for $2! And it's in untouched condition. It's also, according to the insert (included in the d/l), one of the first 150 put out (because the label owners glued the song names on each side).
I was surprised to find that I couldn't find a d/l of this record posted online. So here it is. And here's a post on Chug Life with a bunch of their other records. Also, read that post for some more info about the band.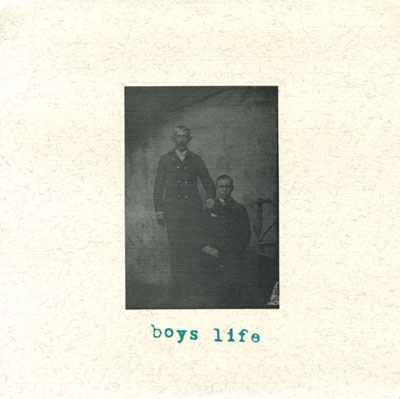 It's a 45, with one song on each side. I didn't listen to this band much back in the day. It wasn't until some recently that I started running into their records at shops. But, the first hardcore show I ever went to was a Boys Life show! This was 1995, and it was at Food Not Bombs in Goleta, CA (later called The Living Room). I barely remember their set, though. I think we didn't see all of it. I remember getting vibed by some guys from our high school – established scenester guy named Dan. Another band (that sounded really good) was playing inside while we were heading in, and Dan, in a mocking fashion, dropped some knowledge bombs on us. "Since you probably don't know, that's not Boys Life playing right now," he said. Yeah, no shit man. ANYWAY
Some other site mentioned that Boys Life kinds of sounds like Drives Like Jehu or Fugazi. But… I'm not too familiar with either of those bands, so I think of them as somewhat similar to Car Vs. Driver (and maybe even Clikatat Ikatowi?!). It's got really active drumming, and slow/fast transitions that eventually build up to rocking, crashing moments before tempering back down. The vocals are somewhat subdued behind the guitars, and are easy to get along with (aka they don't scream).