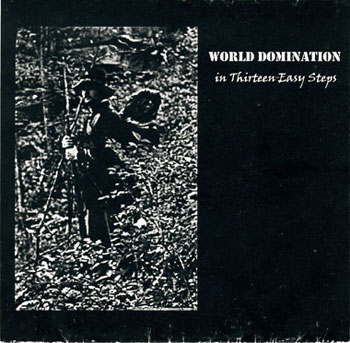 A friend of mine from Goleta put out this comp. Dylan ran Stratagem Ripcords, and played in Stratego (featured on the comp). I was into 'zines in a most monstrous way, and so that's, first and foremost, why I bought this. I had also seen Hellbender play a few years before, so I thought it would be cool to get some of their music.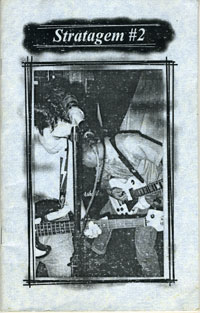 So, this is the compilation that accompanied Stratagem #2, printed July 30, 1997, titled World Domination in Thirteen Easy Steps. I'm not going to scan the entire 'zine. So here's a quick review: there are contributions by lots of folks from Goleta/Santa Barbara/UCSB. They each have a page to themselves, and contributed poetry, short stories, collages, and the like. They also supply Top Tens. The bands from the comps have pages (lyrics) that are scattered throughout the 'zine. Dylan himself contributes most of the writing. He writes about books, nearly dying, records, grammar, and life. I like Dylan. We used to play soccer together every Sunday. And I haven't kept in touch with him at all. There are also record and 'zine reviews.
There was a time when I tended to resist the mature-sounding post-hardcore variety of music. While the vocals were often a relief (not the least because there is the potential for much more variety when it's not all just straight screaming), I found the music to be watered down and, I don't know, too appeasing. However, my sensibilities eventually broadened to allow in music that wasn't best listened to alone (when on record, that is… I mean, maybe it's just me, but hardcore can be kind of awkward). I didn't start grabbing all the Elliott and Mineral records I could find, but at least I wasn't straight making fun of what I deemed to be weak false-emo.
Coming into it I wasn't familiar with any of the bands other than Stratego, Hellbender, and (from hearing the name around) Braid. And it wasn't until a few years later that I realized this is quite a collection of emo-indie-pop (those dashes mean and/or and/or) bands. Like I just noted like five sentences ago, at the time it wasn't exactly what I was into (for example: I was more into Mohinder, and less into their next incarnation, Calm – who, incidentally have a photo in this 'zine. there are lots of band photos – I forgot to mention that), but suffice it to say this did comp get me into a lot of these bands! So dig it, in all its rocking, tearing, poppy, emo-ness.
Here's the line-up:
The Maginot Line – "Attica Salt (live)"
Braid – "Collect from Clark Kent"
Proudentall – "Sleep is Good"
Deathstar – "Shut Down (live)"
3 Letter Engagement – "(303)"
Land of the Wee Beasties – "Enter, The Jerk"
Cru Jones – "Gorillas on Parade"
A Sometimes Promise – "Vicious Blue"
Rusty James – "Kidney Bean"
Hellbender – "I, Thermostat (live)"
Stratego – "Cotillion"
Sprucehill – "Yellow Block Rooftop"
Cerberus Shoal – "Lighthouse in Athens, Part 2 – first movement"
Cerberus Shoal – "Lighthouse in Athens, Part 2 – second movement"
Those two Cerberus Shoal songs are great. I'm assuming they've since been released elsewhere.
I forgot to include images of the cover in the zip. So here's the back. It repeats what I just typed. Yay.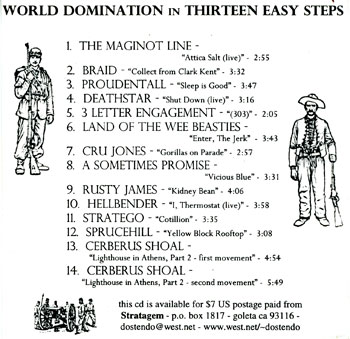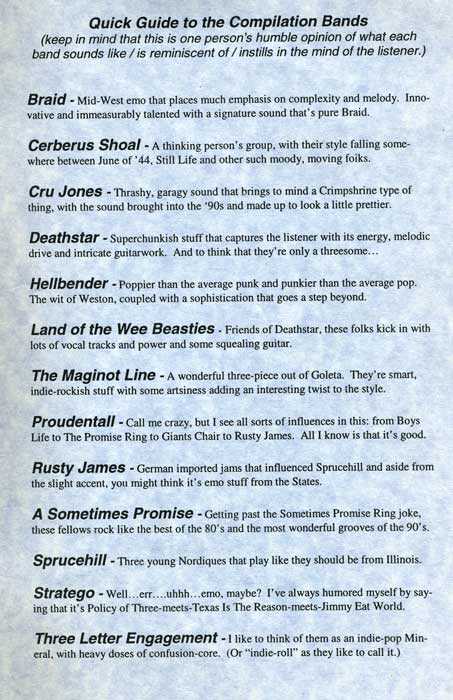 And here is the handy quick guide to the comp, written by Dylan. I found this to be helpful. Click for big.
My version of this comp is a CD, and I transferred it a long time ago, in m4a format. So that's what you'll get. Tell me if this is a big problem for you, and I can do it again, eventually. Enjoy!