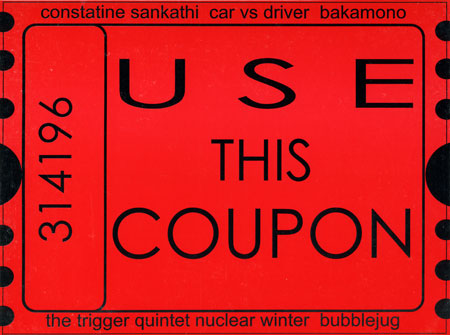 Like the record in the previous post, this one landed in my loving arms after emerging from a basement about four years after being out of print. Along with The Beatles and some other bands, Constatine Sankathi is up there, in the highest realm imaginable, with my favorite bands. But despite owning their discography CD, I never had any of their stuff on vinyl. I think I never tried too hard to search out vinyl because the insert with the discography is so comprehensive, and so I felt like I had everything I needed.
But I'm obviously not going to not buy one of their records. This 12″ compilation, Use This Coupon, released by Slave Cut Records, features Constatine Sankathi, Car Vs Driver, Bakamono, The Trigger Quintet, Nuclear Winter, and Bubblejug. Not a cluttered comp – one song each – four on one side, two on the other. Not a weak one in the bunch.
The Constatine Sankathi song — if you're crosschecking the discography — is "Classical Part 2." This recording is nearly a minute shorter than the Part 1 recording, and a bit grittier.
The Car Vs Driver song, "Dragonfly," is melodic and driving, much like their song on the Amnesia comp, and also their last, and amazing, album, Out of a Silent Sky.
I must say that I disagree with the mastering of this record. After transferring it, and thus being forced to listen to each track and spike very closely, I think they mixed it too high (maybe that's not the mastering part?). It's not my transfer that sort of blows out at the loud parts, it's the record. But anyway, it still sounds good, and it shouldn't at all stop you from downloading it.
I hadn't heard Bakamono or The Trigger Quintet before. Bakamono reminds me a little of Bev Clone. Incidentally, I'll probably post the 26th 7″ comp next, which features Constatine Sankathi and Bev Clone, among others. If anyone has any Bakamono or The Trigger Quintet, please tell me, because I'd like to hear it. I'm in love with the drumming on The Trigger Quintet. (And also, CS and CvsD are bands containing my hero drummers.)
Side B has Nuclear Winter and Bubblejug, both female-fronted bands (well, not technically, since Bubbejug has both female and male vocals…). Nuclear Winter isn't the tightest band out there, but it's a good song. They remind me a little of Fisticuffs Bluff. Maybe it's just her voice, though. Bubblejug make awesome use of overlapping vocals, each telling a distinct story. Insert as pdf, so you can follow along!
Edit (5/18/09)! I just checked my stizats and noticed that a lot of people still like downloading this. I gave it a listen the other day, and I thought the transfer kind of sucked – like, it seemed like the levels were peaking too often. What do you think? Should I re-transfer this? thanks.