This post has something for everyone! As long as everyone loves really screamy, harsh, emotional, and chaotic hardcore.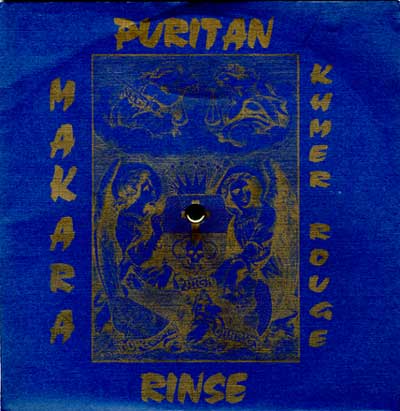 Here's a comp 7″, called From Stars Come Hearts, put out by Witching Hour in 1997. Limited to 500, or so I've heard. It features one song each by Makara, Khmer Rouge, Rinse, and Puritan.
As all the bands are brutal, muddy, chaotic, noisy, and screamy, I kind of consider this is as the predecessor to the Antipodes comp (wouldn't you agree?). Clear yellow vinyl, and housed in such a way as to make it very difficult to keep clean; it's held into the cover by a thronged pin, like the pin that seals a manila envelope. And there's no doubt that pin's rubbed up against the grooves. I had to play the Puritan song about ten times in order to get it to play through with a skip. But keep in mind there are some pops.
Feel free to read the insert and then make decisions to change the names I've chosen for these tracks. Some are ambiguous. Also, when you see the edges cut off on some of the insert pages, please remember that it's because of a giant staple in the booklet that forces a half inch margin.
Rather than leave you all hanging with just one song by each band, and being that I am way into bonuses, I'm also throwing in the Makara 7″ (on Hymnal), Khmer Rouge 7″ (on Witching Hour), and Rinse 7″ (on Concurrent)! Sorry, I don't have any more Puritan… but if anyone else does, please tell me.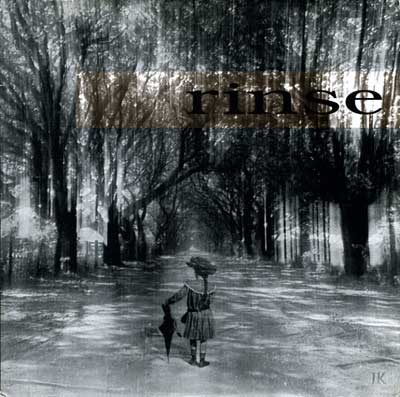 Rinse. I came across this a few months ago while browsing the 7″ inch section at my local record store (which seems to be the only section I ever browse). At the time my mind wasn't placing the band, but I knew it sounded familiar. So I slapped down the dollar and gave it a good home. Then I remembered where I'd heard Rinse! Way cool; I have such great instinct sometimes.
This seven inch is pretty dang good. And it comes with a great insert. Full lyrics, art, and a page by each member of the band. The lyrics are of an intensely personal nature. If I had to find a theme, I'd say it was lousy father. The last song features female guest vocals (and I'm guessing she sang for another band.. maybe someone can tell me which one. She actually sings – not screams – the backups). Pretty intense record, especially if you follow along with the words. Music-wise, they're not breaking any new ground – many fast parts, some chugging, some Rorschach-y riffs, splintery, heaving guitars, and so on. But it's totally good.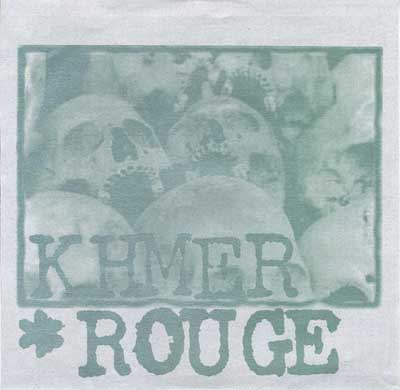 Khmer Rouge's first song starts off with the same drum beat as their song on the comp! They're pretty spastic, muddy, and brutal. And once in a while they bring in some Unruh-y riffs (Unruh from the Enewetak split seven inch, not the lp). And "Over and Out" is like if Constatine Sankathi went completely off the deep-end. Anyone else hearing that? Feel free to dispute my track titles. The little green insert confuses things. They have a song titled "Song 6", but there definitely aren't six songs on this record. So.
I got this record to review for Heartattack, and I remember not giving it the hottest review. Sorry. Now I like it more. Their name is still not the greatest, though. But at least they supply a little history note about the Khmer Rouge.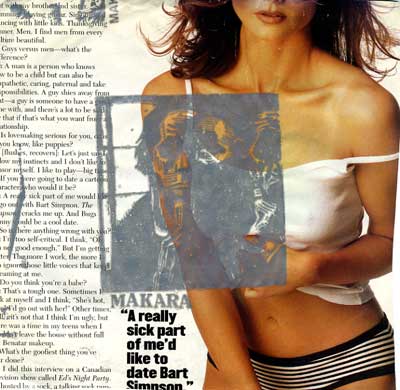 The Makara discography is still available. But here's the seven inch anyway. They're my favorite band of the bunch. In fact, they're one of my favorite hardcore bands. I love how they have feedback running throughout the entire record. They bring such a sense of urgency. It's like they're possessed by an insane disease, with the result being this insatiable sound that emerges every time they come together. They can't help it. I don't know; that's just the feeling I get from them. I split the sides into tracks. I did my best; there are no actual full breaks.
And there is no insert. They bit the Mohinder – The Mission 7″ cover style: their name and stuff screened on a random page from a fashion magazine. Of course, Makara had members of Mohinder, so we can excuse them! Plus we're not the police, so who cares. If you want the lyrics, get the discography. And the discog is remastered, so it sounds a little better. Though I just compared them side by side, and the difference isn't huge. Plus there were even some of the same snags in the recording (so it's not just my vinyl… weird). After Makara, some members, most notably, went on to Ruhaeda. The Ruhaeda lp is very amazing (it was put out on CD, too, and I had both, but then I lent the CD out and never got it back… I might transfer the vinyl anyway, just so I can have it in my earphones).
Here it all is, in one beautiful package: