I think it's funny when people go on to describe Mohinder's music as being symptomatic of the tensions and paranoia arising within Silicon Valley's technological and economic ascent. I'm not one to argue with such assumptions, but I am one to shrug at them. However, if I were of a different spirit, and felt like making up funny postulations that make me sound like a know-it-all to those who don't know I'm full of shit, I would venture to submit that Ruhaeda (whose 2001 album is featured in this post!) continued that tradition, and managed to capture the persistent angst and wild speculations surrounding the build-up to the supposedly-apocalyptic Y2K. Except instead of Y2K being a way lame and disappointing bust, Ruhaeda's tense, repetitious rhythms, jazzy infusions, and melancholic strains that at a specified moment are suddenly punctured to bleed in a maelstrom of speed and fury are acting as a sort of coulda-been. Basically, what if when the time came everything fell apart? Well, Ruhaeda provides such coverage.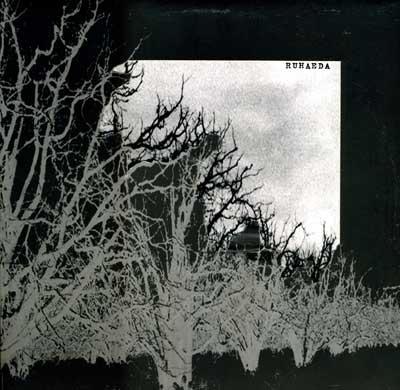 Ruhaeda were around in 2000 to 2002, and featured members of Makara and Under a Dying Sun. I used to have this album on CD, also, but I made the mistake of lending it to a really stylish romulish guy who only listened to At the Drive-In and I thought could do to hear some other bands. And so I had to transfer this from vinyl. The song order is different on the vinyl version. This album is all they released (but I'm guessing there's a demo out there, and if anyone has it I would really really like to hear it, please), and it was a multi-split release from Unfun Records, Level Plane Records, A Strictly Amateur Films, Ape of Essence, and Pictora Pilota Records. I don't know how many records were pressed, but I don't think a lot, given that only a few months after this came out I had to trade a distributor the Ghost Dance comp for his last copy (I came into a few copies of that comp, so this was okay with me).
The day after Christmas in 2001 I took a bus from my parents' house to Oakland, CA to stay with some guy I met on Skylab Commerce (anyone remember that?) and see the Ruhaeda show that he set up in San Jose. It was Ruhaeda, Sutek Conspiracy, the Get Get Go, and maybe one other band. Ruhaeda's set was terrific – notable for massive amounts of pressurized energy released in short, tight bursts. They ran out of steam after about 12 minutes or so. (what a metaphor, eh? really says something about this music we like listening to.)
I brought my dad's camera along with me. This marked my first time ever trying to take photos of a band's set. I basically just held the camera above my head and hoped the guys were in the viewfinder. It turns out they mostly weren't. Here is the best of the bunch.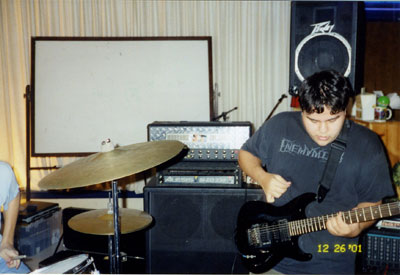 One of my favorite records! It's totally great and it fits in along a progression, of sorts, stemming from Mohinder and then Makara. The record also fits in a great sound ensemble, made from field recordings and other sounds.
Update: Ruhaeda's drummer, Jerry, uploaded this live set. It's from January 22, 2002, and was aired on the UC Santa Cruz radio station, KZSC. It was one of their last shows, and has a couple songs not on the album. Ruhaeada – live
Another update: Leo acquired and then uploaded their demo! Download it here.