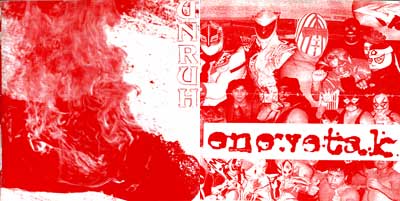 Split 7″. I like both of these bands. Both play fast, harsh hardcore, with super fuzzed out bass and brutal vocals. Unruh's drumming is especially fast and loaded with rolls. After I got this split I ended up getting a bunch more by both bands.
I saw Unruh play at the pickle patch. I remember the guitar's tuning/fuzz was set so that he could play an open chord and it would have zero sustain – it was just a big crunch. I saw Enewetak play at Goleta Fest II. They were awesome. I was happy that they played one of their one second long songs.
This split came out in 1996 on Feast and Famine (Arizona label). Unruh was from Arizona, and Enewetak was from the City of Orange, California. Three songs each.
The Poet You Never Were recently posted the Unruh/Creation is Crucifixion split 7″ (plus a ton more).
Listen to a song by Unruh:
Download the split:
p.s. Does anyone know how many of the Manumission "Tremor on the Line" records (Repercussion Records) were released with the cover screenprinted on cardboard? I found one today for $2, so picked it up… even though I already have that record with the other cover. I don't mean to sound like a total record geek; I'm just curious. It looks cool. Also, would anyone be opposed to a Manumission post? I have Diego Rivera 7″, Binary Lung 7″, and Tremor on the Line 7″ (I wish I had the split with Crudos!). All are very great, and everyone should have them. But maybe everyone already does…
p.p.s. If you live in the U.S., don't forget to vote!