On an historical and somesuch note, Flesh Colored Christs existed in San Diego for the Spring of 2001. They put out a few demo tapes, plus this anthology tape of everything: five songs (plus, side two of the cassette contains earlier recordings of the first four songs from side one.. included here). These tracks are gritty living room four-track recordings, sort of akin to that one early (October 2002) Honeywell radio show recording which I like so much. Except with less high end. But stick with it – the first half of the first song is especially dingy, and when listening to it I feel like I'm trudging neck deep through a muddy canal. But then it lets up a bit, with a cleaner guitar to provide slight release from the dirge. Or maybe it's just that at that point my ears become accustomed to the recording. At any rate, it definitely forces one to listen closely.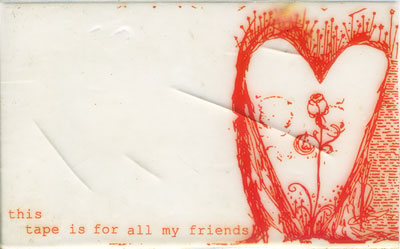 On a musical note, when I first heard this (in 2001) they reminded me of a more early/mid-'90s sound, reminiscent of the type coming from that mentioned above, and maybe Inkwell (and, at the time I got this I thought they reminded me of Heroin, but I'm not hearing that as much now… it's probably that now my vocab is less limited) – slower, more deliberate and openly emotional sections, with hints of melodic guitars entrenched within piercing vocals, and then accented with furiously fast bursts of mayhem.  But I'm also hearing similarities to bands from their era, such as Arroyo Seco (posted below) and Numbers are Neutral (and also, the part where he says "my hands are open" reminded me almost too much of Ettil Vrye's, "body lays lifeless"…but anyway..)
I enjoyed this. Limited to 100!
Booklet includes lyrics and explanations, and some pictures.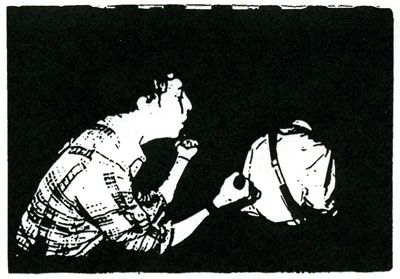 [Flesh Colored Christs][1]
[1]: https://blueskiesabove.us/noise/Flesh Colored Christs.zip "Flesh Colored Christs"