You may remember that earlier I posted the Meadowlark/Slave One split 12″. The Meadowlark stuff on that split is pretty good, but so far I've had some trouble getting into it. This seven inch that's downloadable below, on the other hand, right away makes me go Oh yeah, man, this is the stuff. I've had this for forever on a mix tape a friend made for me. But then I found it on butt white vinyl last week while shopping for records. Right after I found it I found out that the quote at the beginning is from the movie Dune. I say this line pretty much every time there's a storm a'brewing. And now I know that it's not only from the Meadowlark 7″, but also from a movie that I've seen.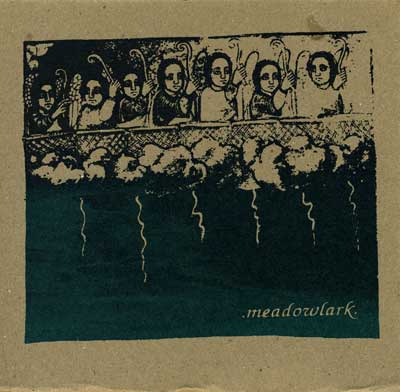 They are frantic and all over the place, which may seem sort of messy, but dang they do it well. Sort of remind me of Harriet the Spy, but can also be chunky and driving and fast, like His Hero is Gone (that may seem like a basic and off comparison, but there are some intense thrashy elements… so spit). I know I don't comment much on lyrics and content, but I include the contents, so I leave it up for you guys to explore. Basically, these guys from Texas are honest ("fuck rights, I want my freedom") and personal ("this is the sound of growing old too fast. this is the face of facing the future alone…") and more. Nice insert also includes drawings and writing and a dedication.
This came out on Highwater Records in 1998.