I urge, no implore, no no, wait, just urge… you to appreciate and look at (in whatever order)This Spartan Life, a talk show that uses Halo 2 as its setting. The guest creates a character, then they travel to a spot amidst some palm fronds, holster the guns (maybe), and then talk.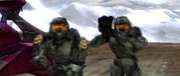 I think the whole concept is absolutely brilliant. The scenes are ready made, and they come equipped with the engrossing and compelling nature that is part of the point of alternate reality settings. It's great that the host, Damian Lacedaemion, had the imagination to take the standard talk show format into a whole new realm.
When other gamers join the game and don't know they shouldn't be shooting at his guests, Damian is sadly forced to revert to his old lethal self and clear the map of these brutes with their curt utterances and barbaric tactics.
I'm often drawn to the worlds of computer games — and I suppose this says something about my character, but I find serenity in merely exploring the fake worlds of online games. Especially the snowy areas. I don't need to do quests or fight things — I'm happy just dropping a fishing line in the ice, and then lounging with an entirely fabricated and entirely different landscape in front of me. And a bag of chips, too.