I thought I'd share an assignment I completed last quarter. Over the course of the quarter I went out to the site (a real block, in South Pasadena), measured everything, and created various architectural drafts (by hand). Then I modeled it using SketchUp. Then I added "enhancements." In these views, you can see the things I added: pedestrian-activated crosswalk; bike corral; wayfinding sign; parklet; bike rack; etc. I put a lot in there, mostly as an exercise.
Click each image to see them larger.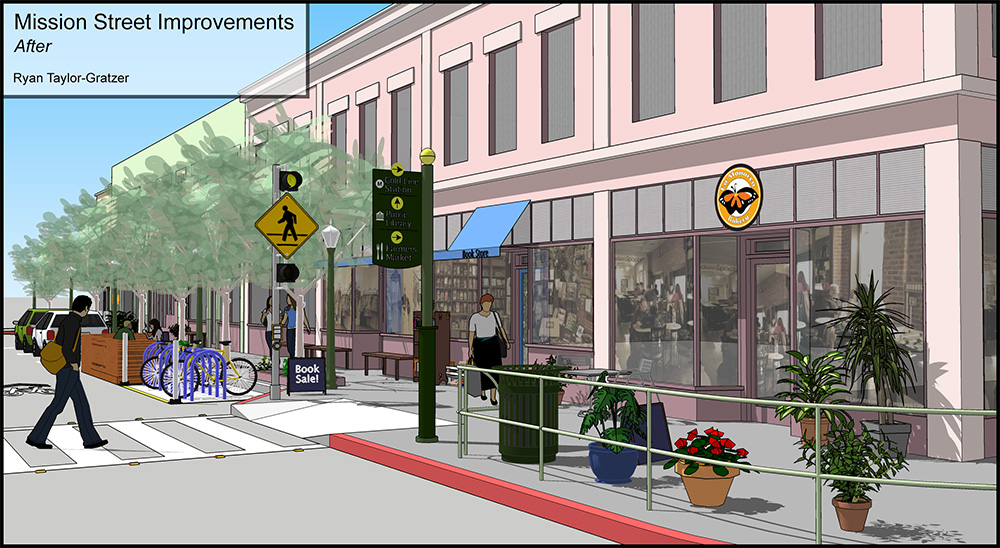 It's a nice street, with locally-owned shops, and trees, benches, and nearby amenities (library, farmer's market, light rail station). My goals were to improve safety for people crossing the street, and to remove some of the free curb parking to allow better use of the space (there's a huge parking lot half a block away).
I really enjoyed using SketchUp. I used a few third-party sprites: trees and plants; trashcan; bicycles, crosswalk signal; people; cars. But everything else I created myself (including the wayfinding sign, sandwich board, and railing). The third-party sprites bogged down the program. Otherwise, it was a joy to use. I occasionally have anal retentive behavior, and SketchUp really brought it out. There were a few points where I tried to cut corners and, say, not measure the width of a door on a building on the far end of the view, but I just couldn't do it. Everything had to be perfect.
(If I could change one thing – which I can, of course! – I would remove the black border around the crosswalk.)