I made a website this week for Los Angeles' Pins and Needles pinball parlor. I really think that Pins and Needles is a unique and special place – it's a labor of love, with a great line-up of prized pinball machines. It also serves as the hub for the Los Angeles Pinball League. Their previous site wasn't as effective as it could be, so to help them get some additional business, awareness, and press, I volunteered to put together a new site for them.
For it, I opted for WordPress, so that the owner could easily update it with new content / blog posts.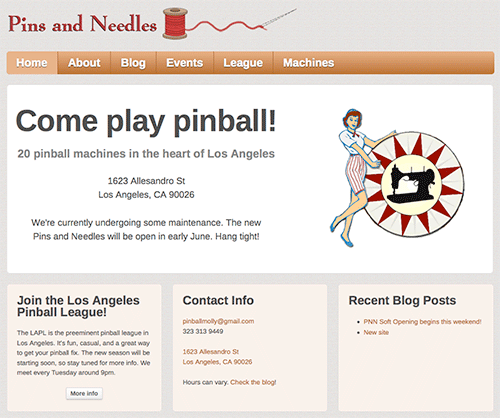 It uses the responsive theme, which is a clean and simple theme, and is suited perfectly for an operation like this. I didn't add anything fancy – mostly style updates.
If you're in LA and you like pinball, you should check this place out. They have some great pins.