This whole website is basically one big advertisement for myself. As such, you should find this post not at all inappropriate.
I have a couple photographs in the July 2007 issue of Ling Magazine.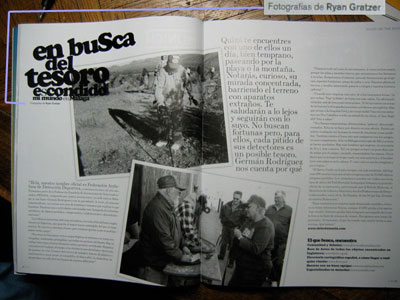 Ling, based out of Barcelona, is "A Magazine About People and Their Cities exclusively for vueling passengers." The content is in Spanish and English. But mostly Spanish.
The magazine is slick, laid out very well, and filled with wonderful photos (and, I can only assume, incredible writing). I'm honored that they used mine.
My photos accompany an article about metal detecting. I don't know how to read it.
(if you clicked the link you'll find that their website is eons behind their magazine.)