I have a new comic up on tiny mix tapes. It's called The Six Basic Postures of Nunchuckti Yoga. Here's an example.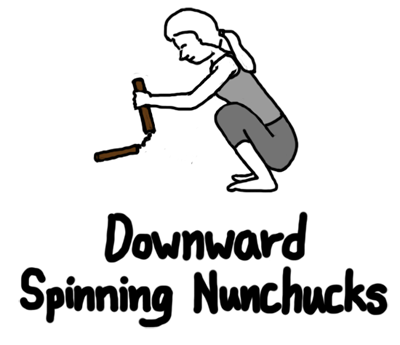 I drew this with my new wacom tablet, the Intuous 4 Wireless. The Intuous 5 came out very recently, but after reading a bunch of reviews, and after using a 4, I decided on the 4. Previously, I'd been using a Wacom Bamboo, and I wasn't impressed by it. I mostly just used it for touch-ups – I'd scan in art, and then clean up all the bad lines in Photoshop. But it would frequently make "phantom" lines. Even when I wasn't making contact with the tablet, it would often act like I was! Very frustrating, and it made it difficult to undo changes, since there would end up being lots of teensy changes to undo.
Anyway, I had the phrase "nunchuckti yoga" in my head for a few months, but I couldn't think of how best to express the idea. Then I saw some yoga posture charts, and decided to go with that!