Six years ago I posted the soundtrack to the 1981 surf movie, Bali High. To obtain this soundtrack, I transferred the VHS tape to DVD, then DVD to MP4, and then I extracted the audio. Needless to say, the quality wasn't great (and I couldn't exclude the narration). However, it's a great soundtrack, and the posted garnered some interest. In fact, it caught the attention of the songwriter, Michael Sena! He was happy to see people still appreciating the soundtrack and new people were discovering it. I'm always concerned that someone will object to me posting their music on this site (though no one has), and it's really nice when they're stoked. I'm not making any money here – I'm just trying to spread the news – but I don't want to contribute to bands losing sales. That's why I only post music that's long out of press, or, in this case, was never available as a stand-alone album.
Then, a year ago, Keith from Anthology Recordings (an imprint of Mexican Summer), contacted me. He discovered the Bali High soundtrack from here, loved it, and wanted to reissue it on vinyl as part of a surf film soundtrack series! Since Michael had left a couple comments on this blog, I had his email address. I passed it on to Keith. I wished him luck. A vinyl release of Bali High would be outstanding – beyond my expectations.
I checked Anthology's site a couple months ago, and there it was! Bali High OST on vinyl, CD, and MP3!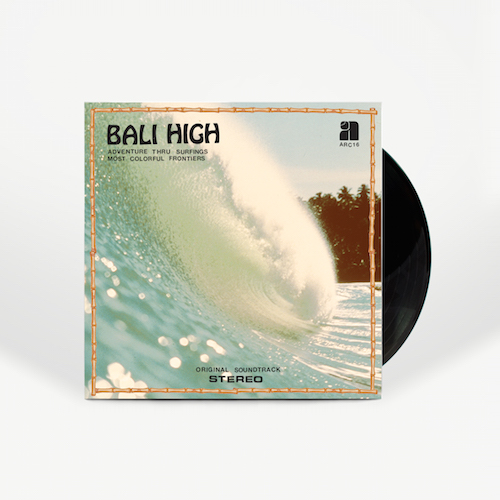 Keith sent it to me, and it's beautiful! It's a gatefold, double LP. There are liner notes by both Michael Sena and filmaker Stephen Spaulding, as well as some really great photos (including one of Sena at the time of the recording).
If you dig Bali High, pick this up! Forget that crappy recording I posted. The fresh, clean recording is SO much better! And the artist, and Anthology, deserve our support. They also released soundtracks to Morning of the Earth, Crystal Voyager, and Litmus. AND I just noticed that they made a Bali High t-shirt!