I have a new comic up on Tiny Mix Tapes called "Buttloads of Apps."
It features five innovative app ideas.
Here's one: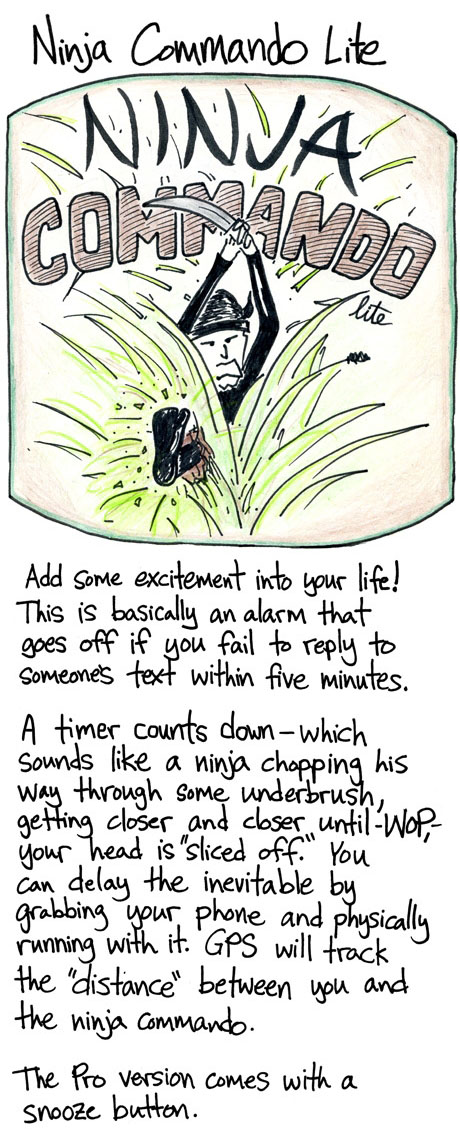 And four more. Click here to see them all.
I drew this in a moleskine notebook. And, unfortunately, moleskines have yellow-toned pages. In the past when I've scanned in drawings from moleskines, I've kept them black and white and then adjusted the tone to make the background butt white. But for this Buttloads of Apps comic I colored them with colored pencil. So adjusting the tone screwed over all of the colors. So, instead I opted to retain the yellowy background within the drawings, but remove it outside of the border. And also process all of the text as black and white. I like how this worked out. There is a lot of white space in the drawings (ALL of the skin, and much of the backgrounds), and I think it looks nice to have that replaced with a warm tone. Still, I kind of wish that moleskines had really white backgrounds.
One time I actually worked on a REAL app. The Pinball Map App. I worked on the UI and some of the graphics.