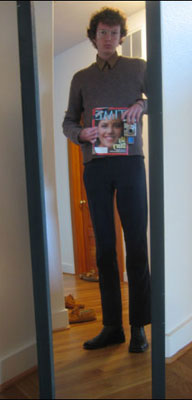 I had a thing back in 1999 where I decided, for the purpose of posterity, to collect and hold onto seemingly important cultural records. The end result is that I still possess a lot of magazines that feature Fox Mulder, Dana Scully, or Monica Lewinsky on the covers. Such as
(We recently found this full length mirror on the street, and we took it in (I was taking picture of my shoes and figured I'd pose with the magazine.).)
When I moved into my new place, I placed two Monica covers — one from the New Yorker, one from Time — on the front entrance table.
And what happens shortly after that? Monica Lewinsky moves to Portland! The Mercury's Blogtown PDX has been reporting on rumors and sitings. Oops, I didn't write that sentence well enough to support all these links. So: And sitings.
Think she'd be flattered by my collection?